Why Consider a Michigan Cyber School?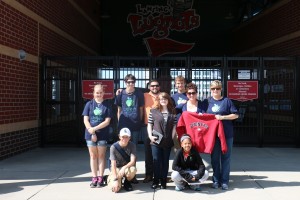 You want what's best for your kids' education.  It's time to give them a 21st century education.
LifeTech Academy is Michigan's Cyber School.  Serving grades K-12, we work, to make education exciting and more relevant to their futures.  Best of all, it's absolutely free!  Give your kids the advantage of 100% real-life project-based learning, in a blended-learning school environment.
Picture This
A teenager's alarm clock goes off for the third time.  He hits the snooze button again…
"Who cares?" he mumbles to himself.
After finally dragging himself out of bed, questioning why he needs to waste away another day sitting in, what he considers a boring classroom.  He barely pays attention in class, skates by with poor grades, and continues to believe that he's just a number in a system with teachers who serve as his prison guards.  As much as those teachers may try to avoid it, he is being left behind.
Now Imagine That Scenario With a Dose of Opportunity
The same young boy stayed up late last night because he chose to put in the extra work that his teacher informed him would improve the grade on this latest project from a 3.0 to a 4.0.  A little less sleep doesn't deter him from springing out of bed at the first alarm – He knows that today he's going to learn based on his interests.
His teachers care about him.
He knows they do, because they're asking what matters to him, and what interests him.  They work together to reach his goals and his vision for his education.
Let's Take It One Step Further
Imagine a world where students are Learners who are engaged in their education…
Where all young people are given a chance to learn in a way that interests them and make sense for their unique skills and assets…
Where the incredibly bright 14-year old who is bored out of his mind while sitting in his old classroom is now challenged to create renderings for a unique bus…
Where the 15-year old girl with a baby is welcome to learn and earn her high school diploma, while being able to care for her child…
Where the 16-year old girl who, "just wants to cut hair," can experience the value of chemistry by learning how to mix hair dyes correctly with a Strategic Partner…
Where Learners are developed into Leaders…
It's About Project-Based Learning
LifeTech Academy is a 100% project-based, blended-model, cyber public charter school.
The Learners graduate from LifeTech with self-motivation, a drive for success, and a clear understanding of themselves and their goals.
Every graduate will have also completed the Dale Carnegie Course, which builds confidence, people and communication skills, leadership, and teaches them to handle stress effectively.
The rigor of the coursework is much higher than a traditional setting due to the nature of project-based curriculum, and the understanding is higher due to the projects being relevant to each Learner's interests.
Ready for a Michigan Virtual Academy like LifeTech?
Fill out our online application and talk to a representative. There is no obligation.